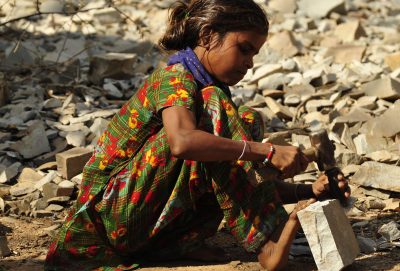 On the occasion of the Day against Child Labor on June 12, 2021, the ILO and UNICEF publish the first joint study on child labor. Accordingly, between 2016 and 2020, worldwide child labor increased by 8.4 million to 160 million child laborers. These numbers are so alarming because the trend in the decline in child labor of the previous years has reversed. This means that the great goal of the United Nations – the elimination of all child labor by 2025 – has moved a long way off!
This is sobering and sad news!
In view of the ongoing global corona pandemic, which is particularly afflicting the countries of the global south, it is even to be expected that child labor will continue to increase. ILO / UNICEF estimate that the pandemic could force a further 9 million children into child labor. One simulation model even speaks of 46 million possible new child workers if insufficient measures are taken to counteract them.
These are sober numbers we are juggling with here. But: Every single child worker has a terrible fate of poverty, coercion and need that makes these children, who, like all children, would have deserved a carefree childhood, into child laborers. And every additional child laborer ensures that global poverty persists, if not increases again.
XertifiX has already achieved a lot in the fight against child labor in the Indian natural stone sector in recent years. But the expected setbacks due to the ongoing corona pandemic will probably also be felt in the natural stone sector. XertifiX auditors will therefore pay more attention to what it looks like in the area around the quarries and processors, and whether the workers' children can also attend school. One can only hope that the gloomy forecasts will not come true – and that we can all build on earlier successes in the fight against child labor!
See at ILO.org: Child Labour: Global estimates 2020, trends and the road forward
Report "Child Labour: Global estimates 2020, trends and the road forward"
See at ILO.de: Weltweite Kinderarbeit steigt auf 160 Millionen