The dangerous corona virus threatens people worldwide and here with us!
The necessary protective measures against the virus mean that we are all massively restricted in everyday life, at work, in favorite jobs and in contacts. In other parts of the world – however – the actually well-intentioned protective measures directly threaten the life and existence of people. You probably know from the media and we, especially from our partners in India, that the state-prescribed lockdown creates huge problems. India's economy lives from millions of unorganized day laborers (92 percent of employees), a large number of women who work in factories, construction sites, households and in agriculture. Many live away from their families in mass accommodation or in the slums of the big cities.
Many people have no savings as day laborers. If work and income no longer exist, there is simply no money to buy the necessary daily food. People are starving. The state does provide people with food if they are registered. Many people could not be registered and therefore do not receive the support.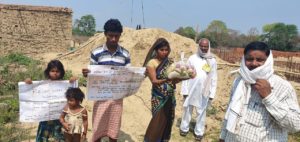 Our auditors Mr. Rajnath and Mr. Susai have therefore taken the initiative and are providing the essentials for people, especially migrants who work in the quarries. Our partner organizations "Vikas Sansthan" and "GRAVIS" support the people in Firozabad and Agra (state of Uttar Pradesh) as well as in the area around Jodhpur in Rajasthan.
Dilip Sevarthi, head of the organization "Vikas Sansthan", describes the situation as follows:
"There is a complete lockdown here, especially in the Slums of Firozabad, because there are patients who have been diagnosed with the corona virus. Our community is living in a great crisis. There is a state supply of grain, but that is not enough. In fact, our community is… not registered with the government, so people cannot get food from the government for free. That is a massive problem! Because the people in the community have no money. So how can they buy groceries. … Now, with our own resources, we no longer have many options for how we could support the people in the community. We give people who are terminally ill … support. But if we got support for food for the community, it would be great for the people here."
We know that this time is very difficult for all of us! But if you can still do without something, it would be wonderful! Please donate with the donation keyword "Corona" to:
XertifiX Sozialprojekte e.V. 

We collect the money and send it directly to our partners in India. They will use the money for food for the needy in this corona crisis. 100% of the money reaches the needy.
We thank you from the bottom of our hearts!