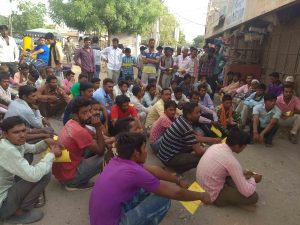 On 01. May 2018 our new project for the control of silicosis and tuberculosis in Indian quarry areas starts.
The project is carried out by our partner organization GRAVIS, with whom we already implement some of our school projects. Objectives of the project include:
Expand knowledge and awareness of lung health among quarry workers and quarry owners in the Thar Desert region.




Improve the health status of quarry workers through Village Health Workers (VHWs) and medical services aimed at improving lung health.

Improving the nutritional status of quarry workers through food gardens, training and capacity building.

Lobbying: Contact with local government and commitment to better health care facilities for quarry workers.
OVERALL GOAL: The project aims to reduce overall silicosis and tuberculosis in the quarries of the Thar Desert in India and promote lung health in the local quarry communities.
The project is financed by the generous donations of the Gebhard-Müller-Schule (SMV) and supporting groups. Thank you very much!
Further information: Das Silikose-Projekt