The XertifiX Standard-Label
The Standard-Label is issued if the following requirements are fulfilled:
No Child Labour (ILO conventions 138 and 182)
No Bonded Labour (ILO conventions 29 and 105)
Labour Union Access and Collective Bargaining (ILO conventions 87 and 98)
No Discrimination (ILO conventions 100 and 111)
Legal minimum wages are paid.
The chain of production must be traceable from importer to quarry.
The working conditions must be improved step-wise (yearly). Each step of improvement will be agreed on at the end of the audit and is mandatory.
Inverted version: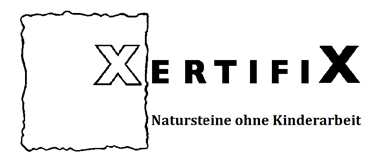 The design of the XertifiX logo comes from the Freiburg artist Jörg Bollin.