The XertifiX Standard-Certification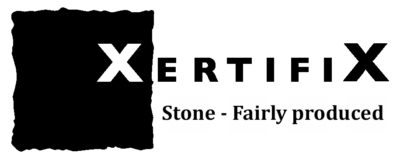 The standard label will be awarded if the following requirements are met:
Compliance with ILO Core Labor Standards
The right to change employer according to contract.
Informing all employees about their rights, the purpose of the XertifiX standard and the audit processes (especially with regard to the rights and obligations of employees to comply with this standard).
Payment of the minimum wage according to local laws.
Punctual payment according to the contract.
No wage reduction as a disciplinary measure.
Legality of the production site.
Traceability of the supply chain from importer to exporter, processing plant and quarry.

 

Compulsory annual improvements in working conditions, workers' rights and environmental protection in the following two years.
Subsequent year 1:

Designation of responsible staff for health and safety
Realisation of an annual health and safety training (including e.g. raising awareness of occupational diseases for instance silicosis)
Risk-Assessment: written documentation of accidents and the application of adequate measures to avoid such accidents in the future
Reduction of dust e.g. by regular and sufficient sprinkling of water in high dust zone to prevent inhalation of dust by the workers or by wet processing and proper ventilation (ILO Recommendation 156) Dry processing only with dust detection on the machine and room air extraction in the work area. If the workplace air is dusty, provide suitable respiratory protection free of charge.
Provision (free of charge) and usage of adequate PPE (FFP2 masks, eye protection, helmets, ear protection, gloves, aprons, and boots). Introduction of measures by employer to control the regular usage of PPE.
In quarries: develop and implement a standard operational procedure for blasting according to the national regulation
In case of danger, the right and duty of the employee to leave the workplace
First aid box (with all necessary, non-expired medicine) within reach (one first aid box for each 20 workers)
Annual first aid training (at least 2 workers for each 50 workers should be trained in providing First-aid care in case of any accident)
Doctor / hospital nearby or transportation by employer to the doctor / hospital in case of accident or illness during working hours. Visible display of the name and contact numbers of the doctors / physician.
Subsequent year 2:

Adequate workplace conditions regarding

space (e.g. surface area of a workplace in a production facility with a minimum of 1,5 sqm)
maximum temperature (e.g. by working in off-peak hours in quarries, provision of shadow shelter)
proper lighting
ergonomics and weight (e.g. reduction of vibrations at drills or grinding machines by isolation measures; maximum weight to lift per person) (ILO Recommendation 156)
proper sanitation facilities
Provision of safe drinking water

Payment of social insurance according to the local law (e.g. "Employees State Insurance" / "Provident Fund" or "Pension Insurance"/ "Medical Insurance" etc.)
Workers' wage records are to be maintained
Regular Working hours: maximum 8h per day and maximum working hours per week according to the local law, but not more than 48h (ILO Convention 1)
At least one day off after 6 working days
Overtime work is voluntary and must be paid higher than regular work (ILO Recommendation R116); it shall not exceed 12h per week.
Breaks during the working day (minimum 30 minutes at working days of more than 6h)
Records of individual working hours need to be kept.
Develop and implement water management measures (incl. monitoring the water consumption; identifying the saving potential e.g. by water saving installations, the re-usage of water or the usage of rain water)
Hazardous materials (e.g. chemicals, fuels): Proper storage, use, and handling of hazardous materials (e.g. a list about origin and use of hazardous materials, labelling of hazardous materials, locked storage rooms, handling by qualified personnel)
Compliance with the criteria must be proven by at least one audit per year (see above). If the criteria are not met in the first audit, this must be confirmed by a further audit (etc.). The ongoing fulfillment of the criteria once achieved is also verified. This means that the XertifiX certifications are only valid for one year.
Inverted version:
The design of the XertifiX logo comes from the Freiburg artist Jörg Bollin.