XertifiX stands for …
fair produced natural stones from Asia
better working conditions in factories and quarries
Independent and unannounced inspections in Asian manufacturing facilities
the commitment to disadvantaged working families and their children
the assistance of affected child laborers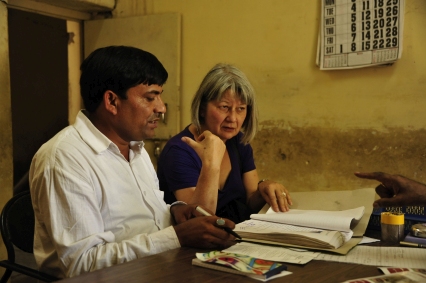 XertifiX is an NGO that fights for better working conditions and environmental protection in the Asian stone sector. On a regular basis, we inspect factories and quarries in India, China and Vietnam to make sure that our standard criteria are fulfilled. The standard comprises the ILO core labour conventions, including the prohibition of child labour and slavery, better health and safety protection of adult workers, fair wages and working hours, environmental protection and legality. If the requirements are fulfilled XertifiX issues certificates for the stones. Herewith, fairly produced stones can be imported from Asia! 
In Asian quarries and factories, we use audits to determine the working conditions, environmental protection and legality. Then the producers have the chance to gradually improve. They are supported by the XertifiX standard, which has been broken down into several smaller parts. As a result, it is possible even for smaller producers to undertake the necessary individual measures for improvement.
In addition, we are guided by the supply chain due diligence approach. XertifiX has developed a model of risk assessment and possible risk mitigation measures for the natural stone sector. Together with the audits, XertifiX provides the trade with a practical toolbox that can effectively improve social and environmental working conditions.
How to combat child labor and slave labor? Prohibitions alone do not help. You have to start much wider. Those who pay unfair wages, those who ignore health and safety, who allow unsafe working conditions, risk sickness and undersupply of workers and promotes the cycle of poverty, poor education and poor job prospects. In addition, child labor not only harms the children themselves because they can not attend school or graduate. As children's labor supply increases, the pressure on adult wages increases. They are all the more easily extortionable with lowest wages.

The Federal Government to XertifiX:
"Good choice! This seal meets our credibility and social requirements" (www.siegelklarheit.de)

Walter2 Schmidt2
At this year's donation gala on ZDF, Benjamin Pütter performed live and presented a project by XertifiX Social Projects e.V. in conversation with Johannes B. Kerner. The post can be seen here:
XertifiX_Autor
This year's ZDF donation gala with Johannes B. Kerner collects, among other things, for our school project for carpet weaving children, which is monitored by XertifiX social projects. The gala will be broadcast on ZDF [...]
XertifiX_Autor
We are pleased that our Chairwoman Ingrid Sehrbrock received the Federal Cross of Merit from Prime Minister Dietmar Woidke in the name of Federal President Frank-Walter Steinmeier last Thursday. The Federal President is thus honoring [...]
We are pleased about your message!
• Give us a call,
• send us an e-mail or
• fill out the contact form
XertifiX e.V.
Otto-Brenner-Straße 1
30159 Hannover
Germany
info [ ae t ] xertifix. de
0049 511 13221 5 3 0